Training Program for General Secretaries and Representatives of National Commissions for UNESCO in African countries
2022-09-16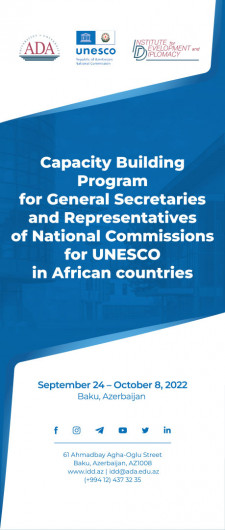 Target Audience: General Secretaries and Representatives of National Commissions for UNESCO in African countries
Program Language: English
September 24 – October 8, 2022, Baku, Azerbaijan
Background
In 1984, UNESCO defined the African continent as one of its two global priorities along with gender equality. Accordingly, the Organization developed its Operational Strategy for Priority Africa, which consisted of six flagship programmes executed for the purpose of promoting and encouraging the development of African continent. The respective programme addressed the particular challenges experienced by the African continent, such as population growth, sustainable development, economic growth, social transformation and democratic governance. The Operational Strategy for Priority Africa is aligned with the objectives of Agenda 2030 for Sustainable Development that consists of the six strategic impact areas, like natural resource governance, youth and women's empowerment, economic transformation, climate change migration and adaptation, affordable and sustainable energy and peace and security.
The primary mission of UNESCO in regard with African continent is to promote and encourage better governance, more inclusive growth and sustainable development via prioritizing the respective continent.
The capacity-building training courses are means used for producing and disseminating knowledge in Africa and strengthening the capacities of government officials throughout the respective region in the areas of science, technology and innovation for the sustainable management of natural resources, economies and communities. In this context, Azerbaijan plays a significant role due to its support for realizing the targets and priorities of UNESCO regarding with the African continent. Based on the Framework Agreement on Cooperation between UNESCO and the Republic of Azerbaijan in July 2013, UNESCO/Azerbaijan Trust Fund has been established for strengthening cooperation between UNESCO and Azerbaijan via new initiatives and activities. In fact, various UNESCO projects in the field of girls' education in Uganda, Kenya and Tanzania have been financed via the established UNESCO-Azerbaijan Trust Fund. Furthermore, this training program dedicated for upgrading knowledge and capacity of representatives of National Commissions for UNESCO in African countries will provide an opportunity for Azerbaijan to further expand its contributions to the efforts and activities of UNESCO regarding with Priority Africa.
Program Objectives
National Commission of Azerbaijan for UNESCO together with ADA University will collaborate to organize training program with the participation of the Secretary Generals / Mid-Level Staffs of National Commissions for UNESCO in African countries. The purpose of the training program is to contribute to the efforts and activities of UNESCO in regard with promoting sustainable development and management, and culture of peace and non-violence in the African region and to further improve cooperation and bilateral relations between National Commission of the Republic of Azerbaijan and National Commissions of African countries for UNESCO.
About ADA University
ADA University started as a training institute to meet the urgent needs of the expanding diplomatic service of Azerbaijan. It has grown into a university with several schools, offering graduate and undergraduate degree programs and Executive Education for professionals in government and the business sector. Currently, ADA University is dedicated to preparing innovative global leaders and to promoting useful collaborative research on diplomacy, public and international affairs, business, humanities and sciences, information technologies and systems engineering. Currently, 2560 students are enrolled at ADA University both at the graduate and undergraduate levels. To learn more, please visit: www.ada.edu.az.
Executive Education
ADA University Executive Education is the major training vehicle for both civil servants and business people in the country as well as international audience. Executive Education has been an important tool for government agencies and businesses to nurture junior, midcareer and top leadership talent for more than ten years.
Our mission is to provide high quality and needs-based professional development and training programs for government and business based on our distinguished academic resources. Our Executive Education Programs fosters dialogue between government and business and provides excellent networking opportunities among all participants. Our alumni network consists of over 5,000 professionals. Offered Programs: Advanced Foreign Service Program, Caspian Basin Studies Program, Leadership and Management Development, Communication Skills and Business Essentials.
In 2007-2021, more than 2000 diplomats and other civil servants from Azerbaijan, Europe, Asia, Africa, United States, Latin America and Caribbean Countries graduated from "Advanced Foreign Service Program", "Caspian Basin Studies" Program and other short and long-term training programs of ADA University Executive Education. To learn more about ADA University Executive Education please visit: https://www.ada.edu.az/en/executive-education
Program Participants
The program is designed for General Secretaries / Mid-level Staffs of National Commissions for UNESCO in African countries working. They will get a unique chance to upgrade their skills in multiculturalism, cultural diplomacy, inclusive education, gender equality and other fields of study that could come in handy in their profession. They will get an opportunity to communicate with distinguished professors and trainers from the ADA University faculty and guest speakers from the Ministry of Foreign Affairs of the Republic of Azerbaijan and other government agencies.
Program Structure
The program consists of different modules, covering topics such as multiculturalism, cultural diplomacy, education, UNESCO conventions, sustainable development and others. Participants in this program will also get information about Azerbaijan, its history, policy, and activities regarding with the restoration of all monuments based on preserving their original and authentic view. The training program will cover 2 weeks each year and the number of participants in the training program will be 15. The language of instruction will be English.
Eligibility Criteria
• General Secretaries and Mid-Level Staff of National Commissions for UNESCO in African countries;
• Fluency in English is main criteria for applying to the program
Application Process
Candidates are to be nominated by relevant National Commissions of African countries for UNESCO, after a formal call for applications by National Commission of the Republic of Azerbaijan for UNESCO.
For any questions, please contact:
1. Ms. Aysel Ibrahimli, First Secretary, National Commission of The Republic of Azerbaijan for UNESCO
Email: a_ibrahimli@mfa.gov.az
Tel: (+994) 12 596 93 54; (+994) 12 596 90 72
2. Ms. Chinara Mammadli, Administrator, Government Programs, ADA University Executive Education
Email: cmammadli@ada.edu.az
Tel: (+994) 12 437 32 35 ext: 473, (+994) 55 502 46 92
All interested candidates must submit the following documents in order to be considered for program.
Required documents:
1. Application Form
2. Passport copy
3. Electronic photo
4. COVID-19 Vaccine Passport (fully vaccinated)
Application Timeline
• Application period: July 15-30, 2022
• Acceptance letters: August 1-10, 2022
Tuition and Expenses
The program is co-organized by ADA University Executive Education and National Commission of Azerbaijan for UNESCO. All program expenses are covered by the National Commission of Azerbaijan for UNESCO: visa, travel fair (economy class), transportation in Azerbaijan (between airport and ADA University guesthouse), accommodation in ADA University guesthouse and all meals.
Certificates
Certificates of participation are awarded to participants who participates actively and fully in the program.